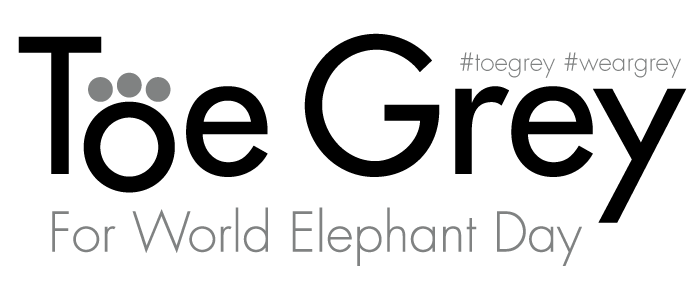 World Elephant Day is Friday, August 12. To bring awareness to the chronic foot problems suffered by India's captive elephants, we're challenging lovers of elephants everywhere to paint their toenails grey.

Paint your toes grey to show your support and solidarity for the world's vanishing elephants. Encourage your friends and family to join in and learn more about the threats facing elephants.

Starting July 30, show your love and support of elephants by sharing photos of your fun grey toes on social media using the hashtags #toegrey #weargrey and #worldelephantday. Wildlife SOS will share supporters best photos!

Donate to Wildlife SOS to give an elephant a pedicure! Many of the rescued elephants in our care require intensive daily foot treatments for their damaged feet. For fun, we call these medical treatments "pedicures."
This error message is only visible to WordPress admins
There has been a problem with your Instagram Feed.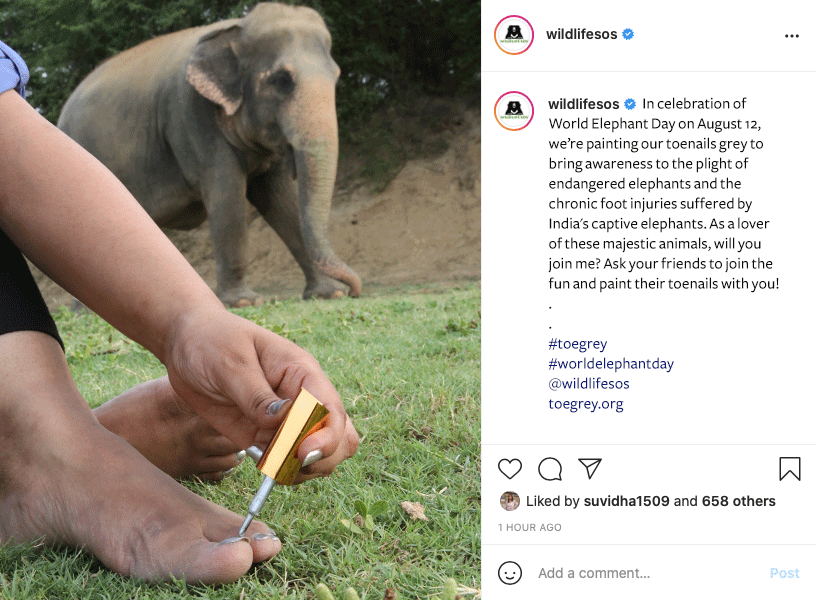 Example post for post for elephant lovers to share!
Please share photo of your grey toes, and you are welcome to copy and paste the text below!
In celebration of World Elephant Day on August 12, I painted my toenails grey to bring awareness to the plight of endangered elephants and the chronic foot injuries suffered by India's captive elephants. As a lover of these majestic animals, will you join me? Ask your friends to join the fun and paint their toenails with you!
#toegrey | #weargrey | #worldelephantday | @wildlifesos | toegrey.org

Threats to Captive Elephants
Severe foot problems
Foot care is extremely important for captive elephants. Bad feet can often cause a cascade of other medical problems like arthritis, fused joints and even complete immobility. Sensitive feet are burned on scalding hot pavement, and glass, nails and other debris get embedded in their delicate foot pads.
Chronic untreated injuries
Elephants in captivity often face chronic debilitating injuries like blindness, eye infections, chronic skin lesions and ulcers, osteoarthritis and even fused joint and limbs. Because these elephants are only seen as money-makers for their cruel owners, they're often deprived of even the most basic medical care.
Lack of Adequate care
Most captive elephants lack even basic care. They spend daylight hours toiling in the hot sun, in busy cities surrounded by heavy traffic, carrying tourists up steep hills, or begging in temples or other entertainment. They're tightly chained at night and fed garbage, scraps or other "food" that barely keeps them alive.

THreats to wild elephants
habitat loss
At the beginning of the 20th century there were more than one million elephants roaming Asia. Today, there are less than 50,000 with a majority of those (27,312) living in India. Much of this decrease is due to forest loss and degradation due to farming, forestry and overgrazing, which is especially detrimental to endangered elephant populations.
poaching for ivory and skin
Everyone knows about the barbaric ivory poaching trade, but poaching takes many forms. Wild elephants are often trafficked as babies, beaten, starved and abused until they comply, and sold into tourist and entertainment industries. Selling ivory is illegal, but selling other elephant body parts like skin and hair is legal in countries like the USA.
conflict with humans
Habitat loss increases the number of conflicts between elephants and humans. As humans take forest habitats, elephants can eat farmed crops and wander into cities looking for food. The results are often tragic, with humans explosives to harm elephants, and elephants sometimes killing people or terrorizing communities in return.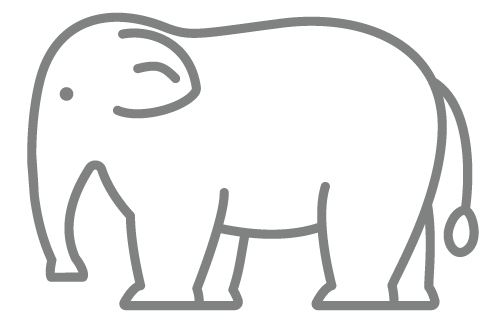 refuse to ride
What might first seem like the vacation-selfie of a lifetime for you, is actually a lifetime of suffering for an elephant. Captured in the wild as babies, elephants used in the tourist trade suffer decades of abuse. Learn more about the Wildlife SOS "Refuse to Ride" initiative, and tell your friends and family about the evils of elephant rides.
SUBSCRIBE AND FOLLOW
One of our greatest strengths is our army of compassionate, well-inform supporters. Join the herd and follow the adventures of Wildlife SOS! Subscribe to our newsletter, or follow us on YouTube, Facebook, Instagram, Twitter and LinkedIn. We share heartwarming stories of strength and overcoming adversity, and mobilize for action.
Sign our petitions
Let your voices be heard, make an impact and show the world's leaders that the plight of elephants is important to you! Please sign and share our petitions on banning the trade of elephant skin, banning elephants from India's busy roadways, and demanding the immediate retirement of blind, elderly and disabled elephants.